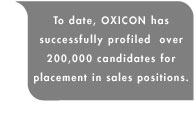 Your Scientific Authority in Human Resource Compatibility.
With a successful model developed and enhanced over the past two decades, OXICON has served a vast array of employers and has earned a loyal following among even "Fortune 500" companies.
OXICON combines a rich history of results with state-of-the art delivery systems to provide you with the crucial information your organization needs to gain the competitive advantage in building your sales force.
OXICON is not an employment agency. OXICON offers pre-employment profiling services that help organizations successfully identify the best employee with an overall goal of reducing company turnover and increasing productivity.